With trading cards still becoming a hot commodity even after all these years, it is but fitting to create a better market for them. At least, that is what US e-commerce giant eBay is considering in its recent plans. The company has recently updated the image recognition capability of its app to include trading cards. It will then be able to further speed up the creation of trading card listings.
The eBay app's updated image recognition feature will be available for card traders and aficionados sometime in late April of this year. It will initially support just Magic the Gathering trading cards. eBay will then proceed with including support for Pokémon and Yu-Gi-Oh! Trading cards sometime in May. Other trading card games and sports cards will eventually be supported later in the year.
The updated eBay feature will be easy and convenient to use. The app will provide a "Tap to search with your camera" option for sellers when trying to look for the name of the game, which initially will be limited to Magic the Gathering cards. Upon using that option, sellers can then simply point the device camera on a particular card. The app will then scour through the eBay database to come up with a list of potential matches. The matches will also include important card details such as the card title, card type, its power, as well as its rarity. Sellers then select the closest match and the app will then auto-populate a listing with all of the card's details.
By updating the eBay app's ability to recognize trading cards using the mobile camera, the company hopes to make it easier for trading card sellers to create listings on the online site. eBay promises that this new app feature will greatly expedite the trading card listing creation process by reducing the amount of information sellers have to enter manually. The company hopes that this will be able to spur growth in the trading card market with the help of the new eBay app's updated features.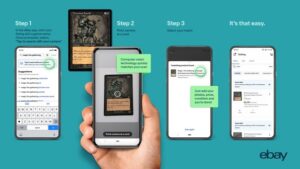 Image Source: eBay